The beautiful Attica region in Greece is famous for its beaches, and you can find lots of amazing places to swim – less than 1 hour of driving distance away from the Acropolis. Athens is among the few big cities on the planet that has a lovely coastline, so if during your travel in Attica you want to swim in crystal clear waters, you'll not have to worry. There are beaches that stretch to Cape Sounion from Palaio Faliro, bordered by the bright blue Greek Aegean Sea. If you want to read the adventure of a couple of digital nomads, read their article about the best beaches in Athens Riviera. Otherwise, here are some of the best beaches near to Athens in the Attica region.
Vouliagmeni Beach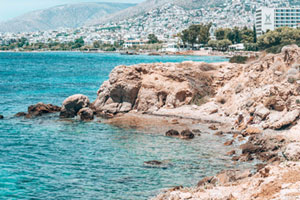 As you may have read in travel forums, it has many beaches that are categorized as 'family-friendly'. Near every beach, there are lots of water sports activities as well as many facilities such as seafood taverns, great sunbeds and showers. You can find plenty of sand and pebble beaches that draw many families during the summer months. There is free entry, excluding the sunbed rental. In case you are looking for calmer surroundings, move farther towards the coast. You can find quite a few relaxing coves, referred to as limanakia. Even if you'll not be in a Greek island, we are sure you'll find peace and relaxation here.
This beach is around 20 kilometres away from the city. You may board a cab from the Syntagma Square. If you need a more affordable alternative, board the metro and go to Elliniko followed by boarding bus number 122 – although this will be a longer travel for you.
Lagonissi Beach
This 15-mile peninsula is located 24 kms from the city centre of Athens, and is lined by beaches. Even if it's not like a Greek island, there are long sandy stretches, with shallow waters alternating pebble beach and hidden coves. You may stay in the fantastic Grand Resort Lagonissi. It has the Grande Beach that comprises of a trendy café and other facilities.
How to get here? The place is around 1 ½ hour driving distance away from Bus no. 122. You may alternatively go to Elliniko by a metro and step on Bus no. 122 bus from that spot.
Kavouri Beach
This lovely peninsula is set on the most attractive coastal walkway of Athens, and is spread over a few kilometers and it's very close to Vouliagmeni. As you might have read on some reviews, the extremely luxury Divani Palace hotel is located here. All those beaches that allow free access to tourists stay crowded during the summer months, particularly in places near the cafes. However, you can surely find a quiet and tranquil spot as you go farther and farther from the coastal path.
You can visit this beach from Athens, which is about 20 kilometres away from the city, very quickly by taking a cab or driving to the place. You may even go to Elliniko by metro and then hop on to bus no. 122.
Astir Beach
This is a major attraction of luxury Athenian Riviera. The Astir Palace and some other chic hotels surround this beach, making it very popular. You'll love for sure its stunning view on the sea. There is plenty of greenery around the beach and you'll never be bored with all the things there are to do. You can also find lots of sunbeds and parasols as well as trendy restaurants and bars where you can relax under the blazing rays of the sun.
You may go to Astir Beach from central Athens with the help of public transport. Just board a tram and hop off at Voula. Simply hop onto the metro and get off at Elliniko.
Akanthus Beach
It is a sandy strip that is located close to the Nālu café, which is buzzing with things to do, and is the center of nightlife activities during the summer months. You can find lots of great sunbeds to relax in, and sip on beverages from any of the bars that have a fantastic combination of cocktails and easy music all through the day. As you might have read on forums, the whole beach can be a party-zone during the night, particularly on weekends when you can see Live Music events being held often.
This beach is situated along the Poseidonos Avenue, which is some distance away (11km) from the Athens city centre. Board a tram from the city centre and get down at Zephyros.
Legrena Beach
This beach is located closer to Cape Sounio, one of the place with the maximum of good reviews on forums. There are beaches with white pebble and silky sand that are worthwhile to visit for tourists. At one time, the most beautiful spot of this place – the Kape Beach – was the main place for research on renewable energy. The spots located to the car parking area's right side are nudist-friendly. Keep in mind that the place has only a handful of facilities and you would do well to fetch your own snacks and water when you come here.
Legrena is one of the best beaches close to Athens and is situated from Athens' city centre (56km). It is just some kilometers to the western direction of Cape Sounion. There are many tours that permits you to visit both beaches and ancient Greek ruins: what's better?It can be also great to rent a car, particularly in case you have plans to go to the Temple of Poseidon and you want your privacy.
Glyfada Beach
It comprises of a number of beaches that are located 16 kilometers to the south of the city centre of Athens, so it's perfect for a short day trip during your travel in Attica. The people of this town love it, and visit this place to enjoy time in the lively bars, plush restaurants and stylish cafes or simply swim in or gaze at the azure waters. The most beautiful parts are close to the small fishing port of the resort. There are many shopping malls here, which can satisfy the shopaholic in you. If you are searching for a calmer option, don't worry, Vouliagmeni is just close by.
You can board a tram to visit the Glyfada Beach in around 40 minutes from the Syntagma Square. Hop off at the Kentro Istioploias.
Flisvos Beach
This is the gateway to the Riviera in Athens. This urban beach might not be similar to the beaches on the Greek islands, but has the most proximal location to the Athenian center. This makes it perfect for a fast trip. You can skip relaxing at the beaches that line the Poseidonos Avenue and visit those close to the upmarket. The place has amazing nightlife, wonderful cafes and jogging tracks on offer. You can get a lovely, sandy strip that would look inviting enough for you to take a fast dip in.
The neighborhood of Faliro is just 5 miles or 8 kms from the Athenian city centre. You can hop onto any of the OASA buses that run from the metro station of Syngrou-Fix every half hour and take around 20 minutes.
Varkiza
As a lot of good reviews say, it is a family-friendly beach that can be accessed free of cost, and has warm and shallow waters that are bordered with soft sand, making it perfect for toddlers. In case you wish to stay away from noisy children, walk down farther from the beach. However, you need to bring sunshade of your own – given that there are not enough facilities. You can also find some budget taverns that serve fresh seafood dishes. These can be enjoyed while sitting with your bare feet in the sand.
You can get to Varkiza, which is located 22 kilometers from the centre of Athens, by bus or car. It is possible to access it easily from the primary coastal road of Poseidonos or through the highway of Attiki Odos through either Bus no. 122 or car.
Asteras Beach
It is among the famous Athenian beaches that can be accessed free of cost, definitely a must see during your travel in Greece. The beach has an upright shopping complex, and if you feel bored at having relaxed on the beach for a long time, you can try shopping here. The people here like to welcome new foreigners and you will always have fun here. You would love to be here, and have fun with your friends or family.
You may hop onto a bus at central Athens, and get to this beach – which is situated at a driving distance of 14 kilometers.
Edem Beach
The Edem beach is situated between the edges of Alimos and Palio Faliro, and is a long stretch of sandy beach. It also comprises of a long promenade that is at the seafront, and is for the best and most advanced swimmers. It connects two tiny beaches with Edem. You can take part in different types of swimming activities, and come across many tourists who come here for adventure and thrills. If you wish to have a wonderful time in Athens, this is one of the best places to visit.
This beach is located only a few steps away from the local tram station which has been named after it. You have to reach Syntagma, and from there you can reach the Edem stop easily. The Edem stop is 30 minutes from the Syntagma Square.
Yabanaki Beach
This is a beautiful place where you can chill out sitting on a beach chair and under an umbrella. You will easily be able to bask in the sun, and there are amazing drinks and foods served on this beach. You would love to stay at the Varkiza Resort, and enjoy the souvlaki place, sushi bar or pizza parlor lying by the beach. You will be able to take part in water sports activities, play some beach tennis or enjoy the other resources that are on offer here. The Yabanaki beach is regarded as among the most popular beaches in the city, and you will be able to relish a memorable trip with your friends and family members.
This is one of the best beaches close to Athens and is situated at a driving distance of 35 kilometers from central Athens. You will love to go on a long drive here along with your partner.